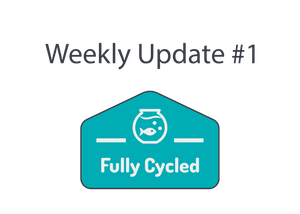 Weekly Update #1
So this is the first update of hopefully many! We thought it would be a good idea to track what we've done each week for the business, how things have been going, what ideas we've had, that sort of things.
So! What have we been doing, this week we've just been cleaning things up more than anything, we've re-organised the website a bit so that the layout is a bit friendlier and easier to use. We've also seen that lots of people are loving the merchandise so we've expanded our Miscellaneous items to include a Plushy range! We've added a wide variety of cute plushies which we hope to expand on in the future.
Aside from this we've also finally uploaded our Brine Shrimp Hatchery video we promised a week ago (video editing is hard!) and updated the individual items on our website so that you too can build your own hatchery.
We've also tried to expand our reach a bit so we've started listing the items we have in storage here on eBay, while eBay has fees which means the prices on eBay tend to be higher than on our website, we're seeing a lot more views on individual items so hopefully it helps build our base which means we can negotiate better prices with our suppliers!
Think that's about everything for this week, next week we're hoping to have a couple posts about how to care for your fish, as well as a video about the products we use to make our fish keeping life easier!
---